One of the downsides of reviewing TV shows, especially shows that you enjoy, is the feeling you get when an episode just doesn't land right for you. Up to this point, I've had only minimal issues with Star Trek: Picard but the latest episode, titled "Two of One" largely missed the mark for me. There were some great moments in the episode but the overall feeling by the end of the episode left a sour feeling in my brain.
Spoilers ahead for the latest episode of Star Trek: Picard "Two of One".
The biggest issue I have with the episode is the structure of it, with the now common trope of "How We Got Here". Movies don't utilize this trope nearly as often as television shows and Star Trek in particular has made use of this trope on a large number of occasions. The basic structure is that the story begins in the middle or near the end, then backtracks to show how we reached this point. In this instance, we see Jean-Luc Picard lying on a road, blood seeping from his mouth as Rios and Tallinn run up with scared, frenzied voices.
Given that this episode is about twenty minutes shorter than the previous episodes in the season, this felt like heavy padding to me to increase the run-time on a short script. The script also does nothing outside of a few small moments for the rest of the cast, specifically Seven of Nine and Raffi. I'm beginning to suspect that the writers didn't quite know what to do with Jeri Ryan's character in this season. The character feels adrift at this point in the season, which is stands in stark contrast to the battle-weary and cynical character that was shown in the first season of Star Trek: Picard. Given that the Borg Queen has played such a prominent role in the season, there should have been more opportunities for Jeri Ryan to interact with her but that is not the case.
Speaking of the Borg Queen, the subtle, insidious plot to gain control of Agnes Jurati's body throughout the early parts of the episode are one of the high points. It feels like a dancer going through a routine on the edge of the stage: one fatal moment of weakness and everything goes wrong. By pushing Jurati to drink, flirt and kiss Rios, and go into an amazing musical rendition (which I give full credit to Alison Pill for nailing Pat Benatar's "Shadow of the Night"), the Borg Queen raised Jurati's endorphin levels up sufficiently to assume full control of the doctor's body. The closing shot of the episode, coupled with Raffi say the obvious "how bad can things get?" line, shows Jurati/Borg Queen wandering through the streets of Los Angeles. I'll give credit to the writers for this: when they decide to make things worse for their characters, they commit to that idea.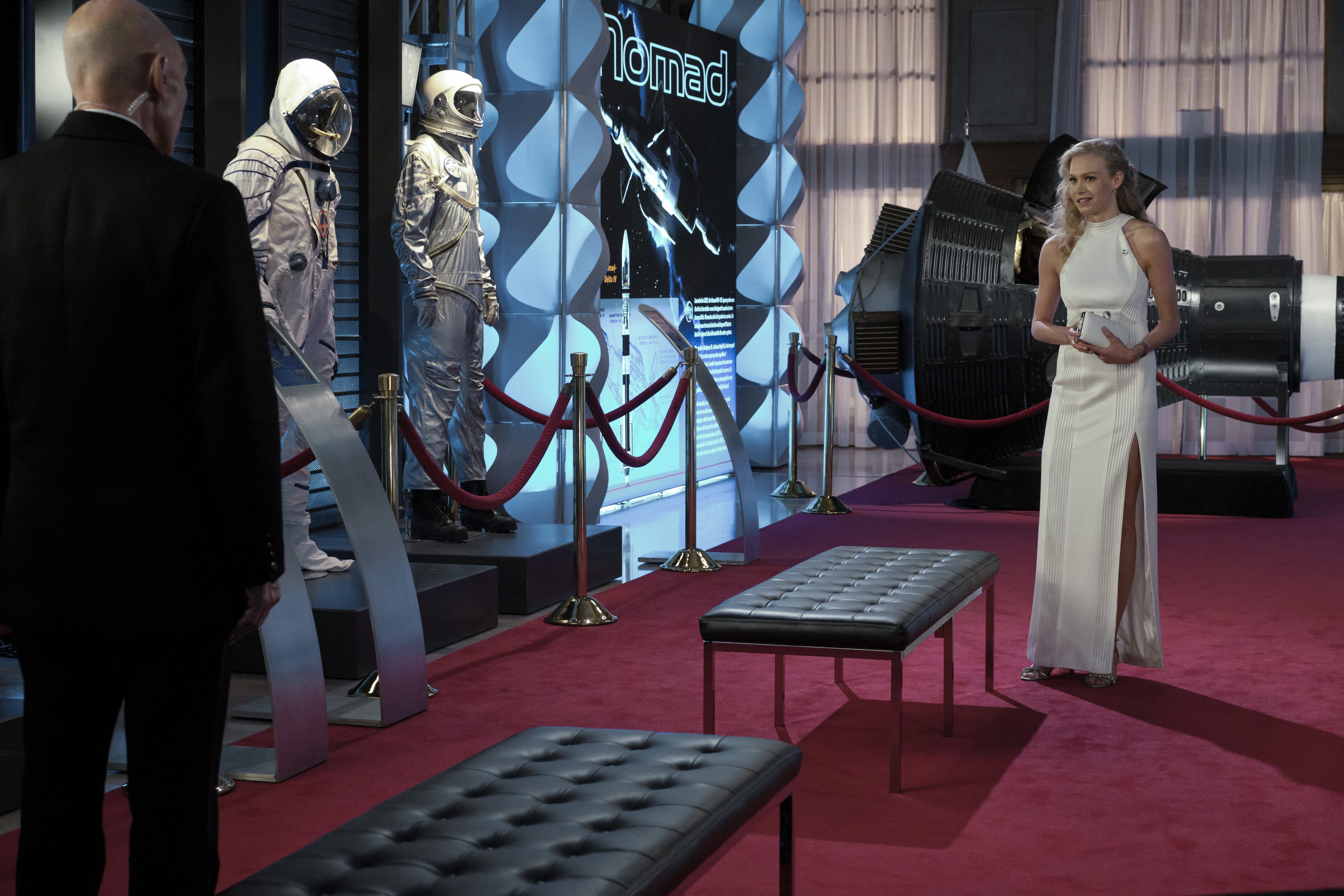 The other wonderful part of the episode was the scene between Jean-Luc Picard and Renée Picard. Penelope Mitchell really shined in this scene, portraying all of the anxiety and fear Renée is carrying on her face. It is the long night of despair for Renée but thankfully, Jean-Luc is there to calmly and empathetically walk her through that moment. As someone who has lived their life with depression issues since childhood, it felt deeply satisfying to hear Jean-Luc's words of encouragement. Every one of us needs to hear words like that when fear, doubt, and anxiety threaten to overwhelm us. While I am not a fan of the writing for the majority of the episode, I did find this scene to be the best part of it.
Lastly, we learn more about Adam Soong and what a nasty piece of work he is. After failing to kill Renée, Soong returns home to Kore, despondent that his best chance at saving his daughter's life has slipped away. A small slip of the tongue causes Kore to begin digging in to her father. We knew already that Soong was a man of questionable character when we saw him lose his funding in "Fly Me To The Moon" (see my review here), but it turns out that he's even worse than we thought. Kore is not Adam Soong's daughter. Instead, she is a clone and not even the first clone. From the records she finds on his computer, Kore learns that she is the latest and last of a long line of clones that Soong has created. Soong is a eugenicist, someone who believes in weeding out and "perfecting" the human genome. With this information, the fact that Soong was so willing to kill Renée to obtain Kore's cure feels less like a father protecting his daughter and more like a scientist trying to prove to everyone that his methods produce results.
While "Two of One" is not my favorite episode of Star Trek: Picard, it has some good moments. I'm hoping the quality over the remaining four episodes picks up. I'd hate to see the potential from the first few episodes go to waste.
Make a one-time donation
Make a monthly donation
Make a yearly donation
Choose an amount
Or enter a custom amount
$
---
Your contribution helps with covering the cost for this site. Give what you can and thank you.
Your contribution is appreciated.
Your contribution is appreciated.
Donate
Donate monthly
Donate yearly
My book series The Atalante Chronicles is now live on Amazon for Kindle, Paperback, and Hardcover Print-On-Demand. Your support is greatly appreciated.
Blood And Stone, Book One in my series, is also available on Smashwords (Affiliate Link)
The Crone and The Curse, Book Two in my series, is also available on Smashwords (Affiliate Link)
Processing…
Success! You're on the list.
Whoops! There was an error and we couldn't process your subscription. Please reload the page and try again.